Economica
The joy of fire in environments where spaces must be exploited down to the smallest detail.
The new pellet cooker heats the room both with the ventilated air diffused by the central grill and with natural convection through the openings placed on the sides of the hob (plate thickness 6 mm, in AISI steel 430).
The Economica cooker is very versatile as it can be positioned freestanding or inserted into modern modular kitchens.
The essential design makes it a pleasant and elegant element in any context.
Available with top or rear smoke outlet.
Technical data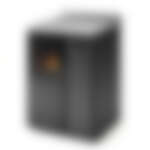 Tipology

Stove, Cooker

Fuel

Pellets, Biomass

Coating

Metal

Power

3 ÷ 6.4 kW
80 ÷ 160 m³

Performance with pellets or wood

92.3 %

CO emissions at 13% O²

193 mg/Nm³

Power levels

6

Flue gas outlet

Rear, Upper

Air ducting

No

Weight

130 kg

Dimensions WxDxH

60 x 60 x 85 cm

Pellet tank capacity

12 kg

Flue gas output diameter

80 mm
★ ★ ★ ★ ★
This product complies with the Class 5 Stars, according to the emission and performance requirements of the Decree of 7 November 2017, n°186 (Italy).
Feature
Two heating elements
Robust structure up to 4 mm thick
Mechanical safety devices with two manual reset thermostats and a pressure switch
Safety electrical safety devices: inductive sensors that constantly check the position of motors rotation; flue gas probe.
Supplied Accessories
Rear profile on the cooking plate
Spatola inserimento pellet combustibile.
Calamita apertura per pulizia scambiatore.
"L" bar for ash cleaning
Accessories on demand
Maniglione frontale sottile.
Wi-Fi remote control via APP
Possible remote ignition via GSM device (optional) controlled via APP (only compatible with Android operating system).
Plus