Eco Cippatina 12
The real innovation in the domestic heating sector
In addition to pellets, this stove can also burn calibrated wood chips, which is an alternative fuel, safe, efficient, clean and economical.
Eco Cippatina is suitable for any type of living: the harmonious and rounded lines underline its great versatility.
Technical data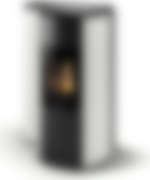 Tipology

Stove

Fuel

Pellets, Wood chips

Coating

Metal

Power

3 ÷ 11.97 kW
80 ÷ 350 m³

Performance with pellets or wood

90.87 %

CO emissions at 13% O²

120 mg/Nm³

Power levels

6

Flue gas outlet

Rear

Air ducting

Yes

Weight

165 kg

Dimensions WxDxH

78 x 58 x 119 cm

Pellet tank capacity

28 kg

Wood chips tank capacity

14 kg

Flue gas output diameter

80 mm
★ ★ ★ ★
This product complies with the Class 4 Stars, according to the emission and performance requirements of the Decree of 7 November 2017, n°186 (Italy).
Feature
Two heating elements
Hermetically sealed pellet hopper
Natural convection option on power settings 1 and 2
Ductable with dedicated fan
Robust structure up to 4 mm thick
Mechanical safety devices with two manual reset thermostats and a pressure switch
Safety electrical safety devices: inductive sensors that constantly check the position of motors rotation; flue gas probe.
Accessories on demand
Wi-Fi remote control via APP
Possible remote ignition via GSM device (optional) controlled via APP (only compatible with Android operating system).
Wall-mounted room thermostat, allows air and temperature regulation in the ducted area.
Feature
Plus