Venexia 25
It is the new range of CS Thermos thermo stoves. It is a generation of thermo stoves designed to achieve important yields and a high output to water, thanks to the greater exchange surface. The double colored door of Venexia frames the hearth glass and enhance the flame, making the handle and other technical details invisible, with an effect of elegant simplicity. The models are equipped with all safety devices and also: Anti-condensation valve with thermostatic control of the system return temperature, electronic circulator, 8 lt. expansion tank.
---
On the return circuit, a chemical-physical water treatment system must be installed, for instance a magnetic dislimer.
Technical data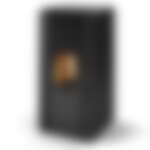 Tipology

Thermostove

Fuel

Pellets / Biomass

Coating

Metal

Maximum power

25.68 kW

Thermal power introduced

23.98 kW

Nominal thermal power to water

22.13 kW
640 m³

Performance with pellets or wood

93.4 %

CO emissions at 13% O²

80 mg/Nm³

Power levels

6

Flue gas outlet

Rear, Upper

Air ducting

No

Weight

270 kg

Dimensions WxDxH

63 x 62 x 131 cm

Pellet tank capacity

32 kg

Flue gas output diameter

80 mm
★ ★ ★ ★
This product complies with the Class 4 Stars, according to the emission and performance requirements of the Decree of 7 November 2017, n°186 (Italy).
Feature
Mechanical safety devices: 3 bar outlet valve, boiler thermostat, air pressure switch and water pressure switch.
Safety electrical safety devices: inductive sensors that constantly check the position of motors rotation; flue gas probe.
Supplied Accessories
Anti-condensation valve with thermostatic control of the system return temperature.
System pressure gauge.
Kit for DHW circuit: anti-condensation valve, electronic circulator system, DHW probe.
"L" bar for ash cleaning
Collar for top flue header
Hydraulic safety devices kit: expansions vase, 3 bar outlet valve, automatic vent valve, system drain.
Water tank probe
Accessories on demand
Wi-Fi remote control via APP
Possible remote ignition via GSM device (optional) controlled via APP (only compatible with Android operating system).
Plus