Firenze 10
The elegant expression of fire
Harmonious and refined: these are the adjectives that suit "our Firenze" more than others. Heat, silence and the self-cleaning brazier are the characteristics that distinguish our design stoves.
The heart of the Firenze stove: CS THERMOS' patented, self-cleaning, ecological, multi-fuel burner. Designed to meet the highest standards of safety, this unique burner offers numerous advantages: 5 different pre-programmed fuel menus; ash discharge without shutting down the burner for reduced electrical energy consumption; dual igniter for shorter start-up times and guaranteed continuous functioning; dual screw feed to prevent back-firing to the hopper.
Technical data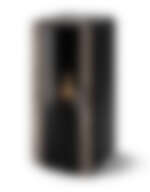 Tipology

Stove

Fuel

Pellets / Biomass

Coating

MDi, Metal

Power

3 ÷ 10.16 kW
80 ÷ 290 m³

Performance with pellets or wood

93.85 %

CO emissions at 13% O²

80 mg/Nm³

Power levels

6

Flue gas outlet

Rear, Upper

Air ducting

Yes

Weight

177 kg

Dimensions WxDxH

54 x 59 x 120 cm

Pellet tank capacity

20 kg

Flue gas output diameter

80 mm
★ ★ ★ ★ ★
This product complies with the Class 5 Stars, according to the emission and performance requirements of the Decree of 7 November 2017, n°186 (Italy).
Feature
Two heating elements
Hermetically sealed pellet hopper
Natural convection option on power settings 1 and 2
Ductable with dedicated fan
Robust structure up to 4 mm thick
Mechanical safety devices with two manual reset thermostats and a pressure switch
Safety electrical safety devices: inductive sensors that constantly check the position of motors rotation; flue gas probe.
Accessories on demand
Wi-Fi remote control via APP
Possible remote ignition via GSM device (optional) controlled via APP (only compatible with Android operating system).
Wall-mounted room thermostat, allows air and temperature regulation in the ducted area.
Feature
Plus